Neva Holland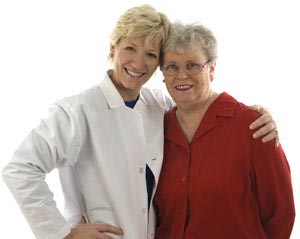 Dr. Daylene Ripley(left) and Neva Holland(right)
In the ten years since Neva Holland was diagnosed with ovarian cancer, she says Dr. Daylene Ripley has become like a daughter to her. Neva credits Dr. Ripley with saving her life and says she is happy to drive from Tallahassee for the care she receives at Gainesville GYN Oncology.
Neva Holland is one of those women you meet that you won't easily forget. Ever. That's true for a variety of reasons. She has an unusual sense of humor. She asks direct questions and looks you straight in the eye while waiting for answers. Neva is just downright sassy. But it is the story of what she has survived that is what makes Neva even more memorable.
Ten years ago, Neva Holland learned she had advanced ovarian cancer. The news was so devastating that it weakened Holland's normal strength into momentary acceptance of something she did not think she could overcome. "What I thought about was how to get ready when I had only a month or two to live. At first, that's all I could think about."
Susan Wright
Michael(left) and Susan(right) Wright
Following her diagnosis of ovarian cancer, Susan Wright's husband Michael wanted to be beside her every step of the way. Gainesville GYN Oncology welcomes family support for patients and is happy to include family members in consultations and treatment discussions.
Susan Wright is a woman filled with passion. She's passionate about her family, her career and about her health. Susan exercised intensely to keep herself in the best shape possible. In 2006, Susan found she had something new to be passionate about – her own survival. Susan was diagnosed with advanced ovarian cancer.
"I have a clear memory of New Year's Eve in 2005," Susan says. "I noticed that my pants were tight around my middle, but I felt incredibly good. At that time, I had no idea how serious a sign this first sign was, but I remember it very well."
Rosemary Manis
Rosemary Manis(left) and Dr. Daylene Ripley(right)
Of all the GYN cancers, uterine or endometrial cancer is the most common. According to the American Cancer Society, more than 42,000 new cases were reported in the year 2009. In most of those cases, the cancers began in the lining of the uterus – the endometrium. In this country, the chance of a woman having this cancer during her lifetime is about one in 40. In late December 2007, Rosemary Manis learned she is among the women who would face this cancer.
"I was on my way home from a visit out west to see one of my sons when I noticed something that was totally not normal for me," Rosemary remembers. "It was vaginal bleeding -- only spotty, but at my age, this was obviously a sign that something was wrong. I went to my gynecologist, and testing showed I had endometrial cancer."
"Dr. Ripley was extremely kind to me and took the time to explain my condition thoroughly, as well as the surgery and treatment she would recommend," Rosemary says. "When one of my sons questioned a new kind of minimally invasive surgery she planned for me, Dr. Ripley took the time to call my son and talk with him directly to answer his questions and concerns. She goes beyond the call of duty to make her patients feel comfortable."